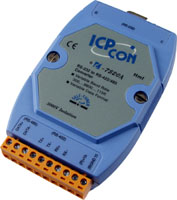 Introduction
AZ I-75

20

sorozat RS232

RS422

/ 485 átalakító sorozat, mely a belső hardver erőforrások igénybevétele nélkül (port, IRQ) biztosítja a teljes RS232 ill. RS485 hozzáférést. A "SELF TUNER" eszköz biztosítja, hogy az RS485 hálózaton különböző sebességü és adatformátumu eszközök legyenek elérhetők. A konverterek

+12- +24V

külső tápellátást

igényelnek
The I-75

20

series is a cost-effective module for

converting RS232 data into RS422/485 datat stream

.

Tthe I-7520 contains " Self Tuner " chip. This chip auto-tunes the baud rate and data format to the RS-485 network. External modules require +12 - +24V external power supply. It also features a high-speed 115.2 Kb/s transmission rate, and supports various O.S. independent RS-232/422/485 Ports.
Features
Output: RS422/485 protocol.

Speed: "Self Tuner" inside

3000 V DC Isolation protection provided.

Ismétlő nélkül 255 modul csatlakoztatható
255 modules max. in one RS-485 network without repeater.

2048 modules max. in one RS-485 network with repeater.

Repeater request: 4,000 feet or over 256 modules.

Plug-and-play installation.
Specifications
I-7520: RS232 -> RS485 converter
I-7520A: RS232 -> RS485 / RS422 converter
I-7510A: RS422/485 ismétlő/repeater
PCISA-7520AR: passzív PC kártya, mint I-7520A

Input port : RS232 3 wire

Output port: I7560: 9 wire RS232
I7561/7563 3-wire RS-232, RS-422, RS-485.

RS-232 Signals: TXD, RXD ,GND

RS-422 Signals: RX+, RX-, TX+, TX-

RS-485 Signals: DATA+, DATA-

"Self Tuner" inside, support multiple Baud Rate and multiple Data Format

255 modules max. in one RS-422/485 network without repeater

Isolation voltage: 3000VDC

Repeater request: 4,000 feet or over 255 modules

Communication distance:

2.1Km/9600 Bps

2.7Km/4800 Bps

3.6Km/2400 Bps

Mounting: Din-rail, wall mounting, piggyback stack

Power consumption: 1.5 W max.

Operating temperature: -25C to +75C

Storage temperature: -25C to +80C

Humidity: 5~ 95%

Dimensions: 123 mm x 72 mm x 33 mm