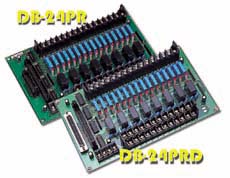 Functional Description

The DB-24PR 24-Channel power relay output board consists of 8 form C and 16 form A electromechanical relays for efficient switching of load by programmed control . The contact of each relay can control a 5 A load at 250VAC / 30VDC . The relay is energized by applying a 5 voltage signal to the appropriate relay channel on the 50-pin OPTO-22 compatible connector or 20-pin flat cable connector . Twenty-four enunciator LEDs, one for each relay, light when their associated relay is activated . To avoid overloading your PCˇ¦s power supply, this board needs a +12VDC or +24VDC external power supply..

Features

8 Form C Relays (SPDT) and 16 FORM A Relay


Accept 20-pin connector to control 8 Form and 8 Form A relays


Switch up to 5A at 250 VAC / 5A at 30VDC


LEDs indicated relay status


Designed varistor to protect each channelˇ¦s high voltage spike


Screw terminals for easy field wiring


50-Pin header Connects directly to DIO-24,DIO-48,DIO-144 OPTO-22 compatible board or any 722,724 series board


20-Pin header connects directly to A-82X,A-626,A-628, Dio-64




Applications


On/off control


Energy management


Test Automation


Process Control


















Specifications


RELAY
Nominal load : 5 A /120 VAC , 5A /24 VDC
Max. Switching power : 0.1HP
Max. Switching Voltage : 120VAC,60VDC
Max. Switching Current : 5A
Life Expectancy : Mechanical ( 2 x 10 ) , Electrical ( 2 x 10 )
Time Value : Operate ( 10 ms )
Control Logic : Input TTL high (+5V) , relay on


Power Consumption : 24V@ 0.8Amax.;


5V @ 0.2A max.


Dimension :130mmx210mm


Operating Temperature : 0 -60?C


Storage Temperature : -20-70?C


Humility : 5% to 90 % noncondensing
---

Ordering Information

DB-24PR/24 : 24 channel power relay Board
(24V version)


DB-24PR/12 : 24 channel power relayBoard
(12V version)


DB-24PR/DIN/24: DB- 24PR 24V version with DIN-Rail Mounting


DB-24PR/DIN/12 : DB-24OPR 12V version with DIN-Rail Mounting
Include
CA-5015 : 50-pin flat cable 1.5m
Options
CA-5020 : 50-pin flat cable 2.0m
CA-2010 : 20-pin flat cable 1.0m
CA-2020 : 20-pin flat cable 2.0m

---

Ordering Information

DB-24PRD/24 : 24 channel power relay Board with 37-pin D-sub connector
(24V version)


DB-24PRD/12 : 24 channel power relayBoard with 37-pin D-sub connector
(12V version)


DB-24PRD/DIN/24: DB- 24PRD 24V version with DIN-Rail Mounting


DB-24PRD/DIN/12 : DB-24PRD 12V version with DIN-Rail Mounting
Include
CA-3710 : 37-pin D-sub connector cable 1.5m
Options
CA-5015 : 50-pin flat cable 1.5m
CA-5020 : 50-pin flat cable 2.0m
CA-3720 : 37-pin D-sub connector cable 2.0m