The 8000 controller comprises a central processor (CPU), power supply, I/O bus, communication interfaces, front panel control facilities and connectors to plug in various I/O modules. The 8000 can operate either as an intelligent front end, connected to a host machine under control of a SCADA package, or as an autonomous controller running an embedded application. In this mode it is possible to customize the unit to specific applications
The product comes in a number of variants depending on the number of slots, communication standard and whether the unit a master or slave.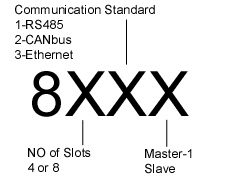 For example 8830 is an 8slot controller with an Ethernet interface that can operate only in slave mode. The 8831 can be set up to be either a master or slave. In the slave mode the 8831 or 8830 can be controlled by the host machine as a distributed I/O front ends. In the Master mode (selected by software download) the 8XX1 versions can operate autonomously running an embedded application.
The Main features of the 8000 controller are
Powerful processing engine.

Powerful Networking Options

Web enabled

Designed to operate in harsh environments

Ease of Installation

Integrated display and control panel

Simple to Program

Comprehensive range of Software Support

Versatile I/O expansion.

Embedded software protection

Powerful processing engine
The main central processing module (CPM) is based on the powerful AMD 80188/80186 series of microprocessors. The CPM can be considered to be an integrated PC comprising up to 32Mbytes of Flash storage and up to 512K bytes of battery supported SRAM. The processor runs itíŽs own version of DOS optimised for real time applications. The extension of the processor bus into the I/O bus permits high-speed data access from the high performance parallel I/O modules.
In addition to the standard network interface each CPM is supplied with two serial ports which can be configured to be either RS232 or 485. These ports can be used to extend the I/O capability of the unit using or alternatively programmed to drive external serial devices.